The Venue
Other than the gala dinner and preceding events to the dinner, all main conference activities will be held on Audencia – Atlantic Campus campus, 8 Route de la Jonelière B.P. 31222 44312 Nantes, Cedex 3 Tel : +33(0)2 40 37 34 34
Audencia is located about 4 km from Nantes city center and is easily accessible by public transit.
Located in the heart of the lively university district and on the banks of the river Erdre, Atlantic campus is the largest campus of Audencia. It is opposite the École Centrale de Nantes, a top engineering school and a key partner within the Centrale-Audencia-ensa Nantes Alliance. It is also across the road from the University of Nantes.
Tram stop: École Centrale-Audencia (Tram line 2)
Website: http://www.audencia.com/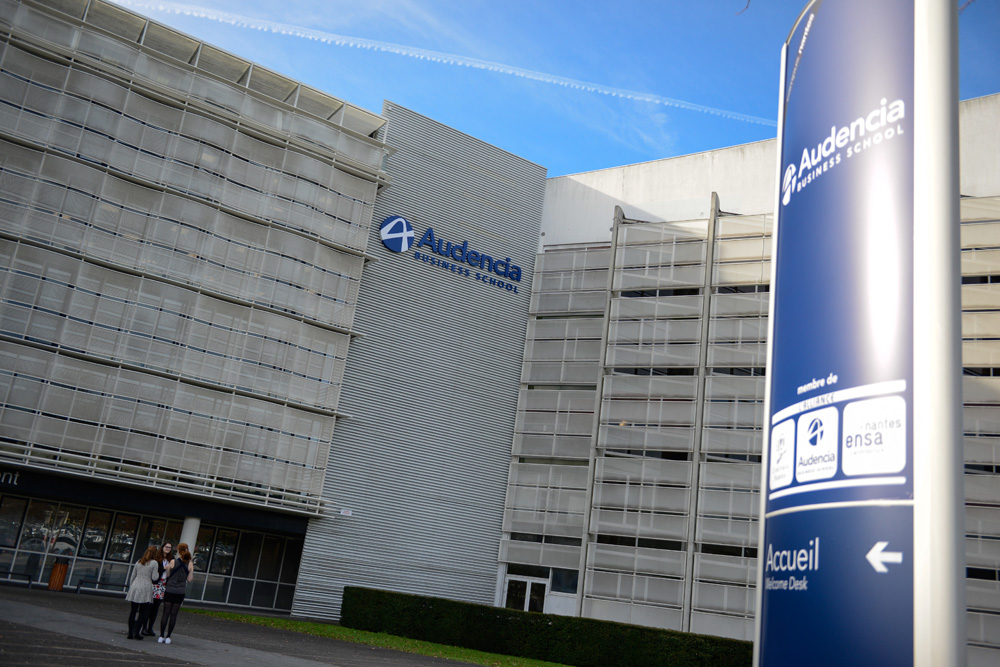 How to get to Audencia Business School?
Audencia Business School, Atlantic Campus 8 route de la Jonelière - BP 31222 - 44312 Nantes Cedex 3 France
+33 (0) 240 37 34 34
Public Transportation
You can purchase your tickets before getting on the tram via ticket dispensers at the train station
One-way tickets valid for 1 hour cost 1.70 EUR, a booklet of 10 tickets costs 15.60 EUR
Note: make sure you validate by punching in your tickets upon getting on the tram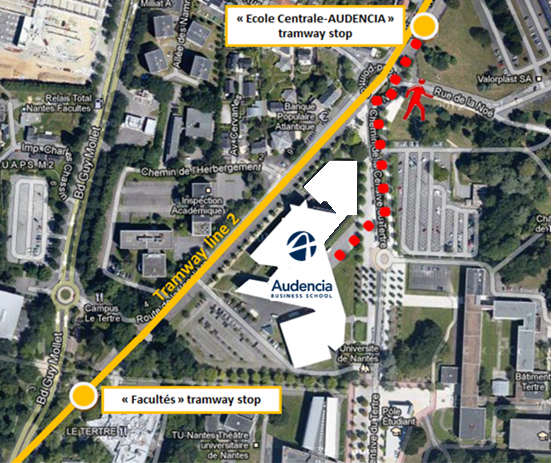 From the railway station
A taxi from the railway station to Audencia takes about 20 minutes. You should always find a taxi (just in case, the number is +33 (0)2 40 69 22 22). Tram line 1 is available from the north exit ("SORTIE NORD"). Board the tram in the direction of "François Mitterrand" and exit at the "Commerce" stop. Then, follow the instructions further below under the heading "From the city centre".
From the airport
Taxis can take you directly to Audencia and they are available outside the main terminal. Another option is to board the TAN bus shuttle (navette aéroport TAN) to the city centre and exit at the stop called "Commerce" (cost:  9 euros). Then, follow the instructions below under the heading "From the city centre". The trip lasts about 45 minutes.
From the city centre
Board tram line 2 (cost: 1.70 euros for tickets valid for one hour; tickets can be bought at all tram stops) in the direction of "Orvault Grand Val". Exit the tram at the "Ecole Centrale-Audencia" stop. Audencia will be visible at your right hand side as you descend. Follow the path indicated with red dots in the photo above to get to the main entrance where the conference reception desk will be situated. Please note: all tram lines cross at the city centre. It is possible to change from any tram line to any other tram line at the stop called "Commerce". For further information about buses and trams see https://www.tan.fr/ or call 02 40 444 444.
We encourage you to use the tram as it is the fastest way of getting around, but if you need a taxi, you can call any of the following numbers:
Taxis-Nantes.com: +33 (0)2 40 69 22 22
Hep! taxi: +33 (0)2 40 85 40 85